There are eight major islands in the Hawaiian chain, each formed by volcanic activity over millions of years. Hawai`i is the only state that is formed entirely from volcanic material. The Island of Hawai'i (bottom right on the map), also called the Big Island, is the largest and youngest of the islands. One volcano on this island is still erupting, adding new land to the island each day.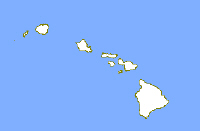 The older islands, some no more than atolls, stretch to the northwest covering an area of more than 6,000 square miles in the north central Pacific Ocean. Hawai'i is located in the Tropic of Cancer, approximately 1,500 miles north of the Equator, 2,390 miles from California, 3,850 miles from Japan, 4,900 miles from China and 5,280 miles from the Philippines.
Start your tour on Hawaii's most populated island, O'ahu.