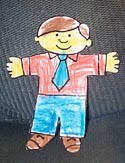 This is how Flat Stanley looked when he arrived at Aunty Kat's and Uncle Dingo's house in Kapolei, Hawaii, on the island of Oahu.


Because it's so warm in Hawaii, we got FS a cool aloha shirt and slippers. Slippers are our word for flip-flops. He looks more local now!
Uncle Dingo took FS to work with him and we took pictures out the car window along the way. Above is the west loch of Pearl Harbor. Below is H-1, just before the airport.


This is taken from the viaduct at the airport. It's called a viaduct because the freeway (H-1) is built on top of another highway. The signs are Honolulu, Waikiki and Airport.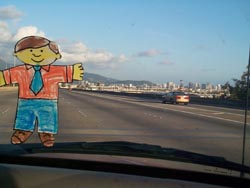 This is a somewhat blurred view of downtown Honolulu from the freeway.

It is tradition in the islands to give arriving guests a lei, so we found one that was the perfect size for Flat Stanley.

Aunty Kat works with a computer most of the day, and Flat Stanley is a very good helper!

This is the corner of Punchbowl and Beretania, two of Honolulu's main streets. The state capitol is the building shown. You can find better photos of the capitol and learn the meaning of its symbolism on the Honolulu Capitol Tour.