Flat Stanley - Adventures in Paradise
Flat Stanley is visiting the Hawaiian Islands during February, 2002. This Flat Stanley was created by Ty, a kindergarten student in Texas. We'll post Flat Stanley's adventures here each day so you can follow along with us! Learn more about the Flat Stanley project or see Flat Stanley's Hawaii Pictures.

Saturday, February 09, 2002

Downtown Honolulu
We've had a busy few days and no time to sit down and write about it! FS and Aunty Kat were committed to writing last night, but then the Olympics came on TV and we couldn't resist watching it! But we're back to work today and catching up on our reports.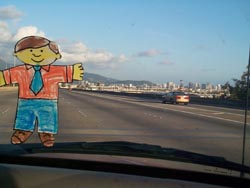 FS has been to Honolulu twice since arriving on the island, a distance of about 25 miles from our house near Kapolei. Along the way, we pass several residential communities, Pearl Harbor, military bases and the airport. More pictures are on Flat Stanley's Hawaii Pictures page.

Once in town, we saw the State Capitol and Honolulu Hale (hale means house and is pronounced hah leh, so -- Honolulu's House or Honolulu City Hall). We didn't have time for touring, but we will later in FS's visit. For now, you can see photos of downtown Honolulu, Chinatown and the Capitol District here: Walking Tour of Honolulu.

Hawaiian Words and Phrases
Flat Stanley's Hawaii vocabulary has grown very quickly! This page by Aloha from Hawaii has excellent sound files so you can hear how words are pronounced: Native Tongue by Kalani Flores.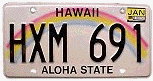 First he learned to say aloha, and that it means hello, goodbye and much more. Hawaii is called the Aloha State, and you can learn more about why we have this nickname here: Aloha Spirit. The next important word is mahalo (thank you) and that there is no word for please! Aunty's good friend Sweet Lei has a wonderful Web site about the Hawaiian Language and this page especially describing the special meanings of ALOHA and MAHALO.

Hawaii has two official languages, English and Hawaiian. We also have an unofficial creole language called Hawaiian Pidgin. You can learn more about them on our Language Pages.
posted by Kathy Durham 2:54 PM
Wednesday, February 06, 2002

Where is Hawaii?

We had a quiet evening at home and Flat Stanley has now gone to sleep, exhausted after his trip from Michigan to Hawaii. He'd traveled about 4,400 miles, so no wonder he was tired! He had lots of questions, so we used the Internet to find some of the answers.

First, he wanted to know where he was! Hawai`i is located in the Tropic of Cancer, approximately 1,500 miles north of the Equator, 2,390 miles from California, 3,850 miles from Japan, 4,900 miles from China and 5,280 miles from the Philippines. This image drawn from a satellite photo may help to see where we are: Bird's Eye View of Hawaii. The small spots in the bottom left corner are the Hawaiian Islands!

There are eight major islands; six where people live and that can be visited easily. Ty's Flat Stanley is on the Island of Oahu, which is where Honolulu, the state capital, Pearl Harbor, and Waikiki are located. It's the third largest island in area (600 square miles), and the most populated (almost a million, counting tourists). About 75% of Hawaii's people live on this island. We live near Kapolei, a new city on the southwest corner of the island, west of Ewa, which is shown on this Map of Oahu

Flat Stanley, or FS as we've started calling him, had more questions that we'll cover another time. Aunty Kat's getting sleepy!
posted by Kathy Durham 1:01 AM
Flat Stanley went to work with Uncle Dingo this morning. Uncle's job is Research Director for the Linda Lingle Campaign Committee. He follows the important issues, such as our economy, education and the environment. Ms. Lingle is a past mayor of Maui County (the islands of Maui, Molokai and Lanai) and is running for governor of the state of Hawaii this year. If she is elected, she will be our first woman governor. Hawaii is the youngest state in the U.S. and has had only five governors since statehood in 1959. Our current governor is Ben Cayetano, the first U.S. governor of Filipino ancestry. More information: Hawaii Government; Hawaii Statehood; and Photo Tour of the State Capitol.

Check back later for Flat Stanley's first impressions of downtown Honolulu!
posted by Kathy Durham 11:20 AM
Tuesday, February 05, 2002

Aloha Flat Stanley!



When Aunty Kat checked the mail today, there was a big envelope from Michigan! Inside was Flat Stanley. As is the tradition in Hawaii, we gave him a flower lei. Since it's so warm in the tropics, we thought he'd be more comfortable in a cool aloha shirt and slippers, or flip-flops. We also put on some sunscreen so he wouldn't get sunburned.

We thought he might be tired after such a long journey, but he was very excited to be in Hawaii and wanted to go exploring right away! But first we wrote an email to let Ty and Mrs. Dowden's kindergarten class know that he'd arrived safely and was already having a great time.
posted by Kathy Durham 5:13 PM


What's My Name In Hawaiian?
Flat Stanley was calling us Miss Kathy and Mr. Dingo as he'd been taught to do. We explained that in Hawaii, children are taught to call adults Aunty (or Auntie) and Uncle. This is one of the special customs in the islands that serves to remind us "big folks" that the little ones are important and are part of our family, or 'ohana.

We also explained that his name would be different in Hawaii, too! We used the Internet to look up what his name would be and found out that Stanley is Kanale (kah nah lay). See if you can find Your Name in Hawaiian at the e-Hawaii Web site. If you'd like to learn more, we have a page of information about the Hawaiian Language which is one of Hawaii's official languages, along with English.
posted by Kathy Durham 5:45 PM
Monday, February 04, 2002

Flat Stanley is coming to Hawaii!

Aunty Kat has been busy cleaning house and making plans to welcome a visitor. We get a lot of visitors in Hawaii, but this one is very special. Flat Stanley is on his way to the islands from Michigan, having traveled there from his home in Texas.

There are many Flat Stanleys in the world, so we'll share more about our visitor and his class in Texas after he arrives and has time to rest a bit after such a long journey. We'll also share all the activities we have planned for our guest.

Check back during February, 2002 to come along on Flat Stanley's adventures in paradise! Or if you're finding this page after his visit, see what he did and where he went in the islands.
posted by Kathy Durham 7:39 PM
More Information on Flat Stanley