We're often asked to recommend the most "authentic" commercial luau in the islands or to suggest which of the foods should be served at a "traditonal" luau. There are no good answers to these questions!
If by authentic or traditional, one means what would have been done or served in ancient times, we have to first change the name. The Hawaiian word lū'au means young taro tops, and also a dish made with the leaves, cooked with coconut milk and chicken, octopus or squid. This dish was served at celebrations, so it's likely that a visitor, sometime in the 1850s, confused the word for what they were eating with the whole party, and the word stuck.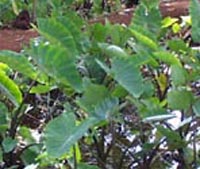 Taro Patch
A rose by any name would smell as sweet, and so too is a get together with friends and family, which is the most important thing to remember. Freely sharing what we have and the feeling of community cannot really be bought and sold. Entertainment can be purchased. Food and beverages can be purchased. Friendship and the feeling of belonging and contributing has no retail value!
Now that you know that no commercial luau can be either "authentic" or "traditional", we can move on to enjoying the food, the music and dancing, and being with other people. All commercial luau offer this! And this can be incorporated into your backyard barbeque, family picnic, birthday parties or any celebration no matter where you live.
If you're looking for a good commercial luau, we recommend that you visit Hawaii Activities and select from the many attractions and activities they make available to order online. If you're planning your own luau-themed party, you'll find more information on these pages: